This is a compilation of Grades 1 to 6 performance tasks for 2nd quarter, school year 2020-2021.
Since quizzes and periodic examinations are no longer feasible under the blended learning framework, the Department of Education has revised its assessment and grading policy for basic education students.
Classroom recitations, quizzes and frequent tests were crucial elements of the learning process of students. But the recent change to distance learning modalities has made it impossible to administer, if not entirely obsolete, these traditional assessment tools.
Restrictions levied because of the coronavirus pandemic contributed to a massive reform of the worldwide education system.
For DepEd, the blended learning approach will make education more accessible: learning will still continue for students through written modules or class episodes, broadcast on television or radio without access to required gadgets and secure internet connectivity.
This setup, however, also presents difficulties, such as the need for a versatile evaluation and grading system that takes into account the various learning modalities chosen by the students.
DepEd issued the interim guidelines for the evaluation and grading of students this school year on Oct. 4, the day before the opening of classes, taking into account the current learning setup for Filipino students.
"Distance learning poses challenges for teachers and learners in the conduct of assessment, including limitations on giving immediate feedback, and the need to account for different contexts in designing, implementing and grading assessment tasks," the policy read.
"Schools must adopt assessment and grading practices that can most meaningfully support student development and respond to varied contexts at this time," it added.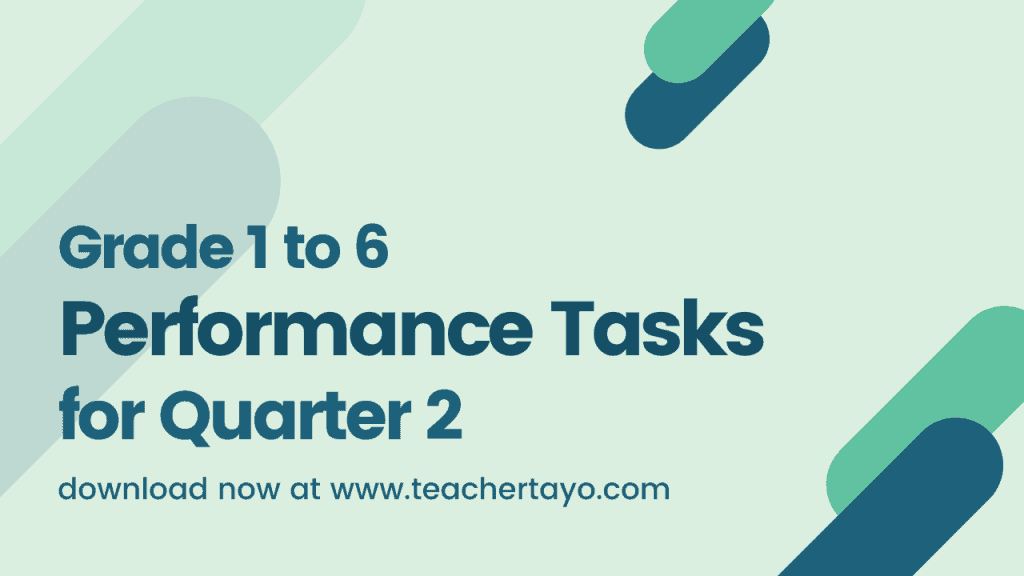 Grade 1 to 6 Performance Tasks for 2nd Quarter
| | |
| --- | --- |
| GRADE 1 Performance Tasks for 2nd Quarter | DOWNLOAD |
| GRADE 2 Performance Tasks for 2nd Quarter | DOWNLOAD |
| GRADE 3 Performance Tasks for 2nd Quarter | DOWNLOAD |
| GRADE 4 Performance Tasks for 2nd Quarter | DOWNLOAD |
| GRADE 5 Performance Tasks for 2nd Quarter | DOWNLOAD |
| GRADE 6 Performance Tasks for 2nd Quarter | DOWNLOAD |
DOWNLOAD MORE:
Written Works and Performance Task
16. To evaluate student learning at particular points in each quarter, summative assessments shall continue in the form of written works and performance tasks.
a. Written works shall be administered to assess essential knowledge and understandings through quizzes and long/unit tests. Items should be distributed across the Cognitive Process Dimensions (DepEd, 2015, p. 4) using a combination of selected-response and constructed- response formats so that all are adequately covered.
b. Performance tasks refer to assessment tasks that "allow learners to show what they know and are able to do in diverse ways. They may create or innovate products or do performance-based tasks [including] skill demonstrations, group presentations, oral work, multimedia presentations, and research projects. It is important to note that written outputs may also be considered as performance tasks" (DepEd, 2015, pp. 7–8). Annex B provides a list of sample summative assessments that fall under performance task for the purpose of this policy.
17. Performance tasks must be designed to provide opportunities for learners to apply what they are learning to real-life situations. In addition, teachers should take into consideration the following:
a. Each task must be accompanied with clear directions and appropriate scoring tools (i.e. checklists, rubrics, rating scale, etc.) to help learners demonstrate their learning (see Annex C for sample scoring tools).
b. Teachers are advised to collaboratively design and implement performance tasks that integrate two or more competencies within or across subject areas. Complex tasks may be broken down into shorter tasks to be completed over longer periods of time (see Annex D for sample integrative assessment tasks).
c. Learners must be given flexibility in the accomplishment of the performance tasks to consider time and resources available to them. Nonetheless, all learners within a class should be assessed on the same competencies using the same scoring tool.
d. Teachers must exercise their professional judgment in carrying out summative assessments, providing enough opportunities for learners to practice and to redo their work whenever necessary, so that they can reach their learning targets with the least amount of pressure.
18. Teachers should set realistic expectations and use their professional judgment to find a good balance between what is effective and what is feasible to accomplish remotely.
Reference/Source: DO No. 031 s. 2020
Disclaimer: These Performance Tasks for 2nd Quarter are files that are shared in the internet and were not originally made by Teacher Tayo. This post is created for information, education and dissemination purposes only, NO copyright infringement intended, for more questions and inquiries contact us through our Facebook page, @teachertayo.
Performance Tasks for 2nd Quarter – scroll up to download
What is Teacher Tayo?
Teacher Tayo is an online website with the domain, www.teachertayo.com, created to help provide downloadables to teachers and to inform them of the latest news and happening regarding education. Teacher Tayo aims to be the number one source of free downloadable teacher's materials in hopes to lessen the workload of our teachers.
Basic Troubleshooting
If the download link is not working properly you may be loading an old cache of the page. To solve the problem please refresh the page by PRESSING F5. Shall you need further assistance? Please email us at [email protected].
Teacher Tayo Community
LIKE our Facebook PAGE and SHARE this post to your timeline to help our fellow teachers who need these materials. JOIN! our growing community and fellowship with thousands of teachers all around the country. Teacher Tayo is not just a mere site it's a movement towards a better Philippines.
RECOMMENDED