Files in this post – Learning Activity Sheets Compilation for Quarters 1-4.
In this post, we tried to compile all of the learning activity sheets that are available on the internet. We looked for every grade in every quarter and compiled them to this one post to make downloading easier.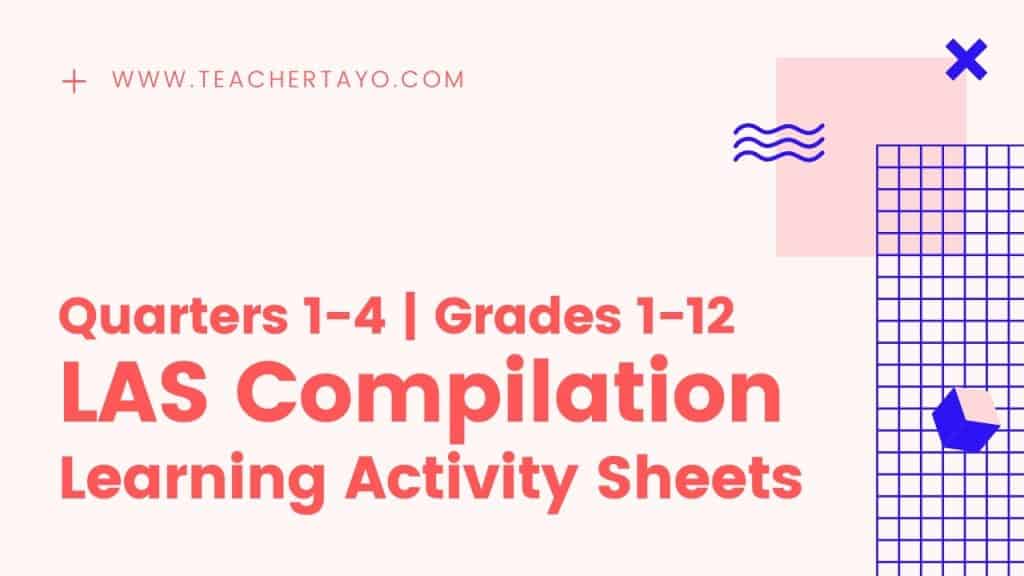 Take note that these learning activity sheets are not made by us but from different sources on the internet. If you're one of the owner of these files and want the files to be removed, you can always send us an email.
With that being said, we are always on the lookout for a new Learning Activity Sheets (LAS). If you want to share yours, or if you found an LAS on the internet and want to share it to other teachers as well, then please do send us an email ([email protected]) or visit our Facebook page.
Learning Activity Sheets Compilation
So far, these are what we were able to searched for:
S.Y. 2021-2022
Grade 1 to 6 Learning Activity Sheets: DOWNLOAD

S.Y. 2020-2021
You May Also Like:
Modules Compilation: DOWNLOAD
WHLP: DOWNLOAD
Discover More: DOWNLOAD
Read Interesting Articles: DOWNLOAD
What is an activity sheet?
An activity sheet is commonly a piece of paper with questions or activities. Students can either place their answers or perform the specific activity. In addition to that, the activity sheet is also used to record the activities done by a person, a group of people, a family, or an organization. (seen on the internet)
According to networklearning.blogspot.com, the purpose of learning activity sheets is to activity sheets provide the context and direction and importantly the process to participate in activities, link to resources and free media utilising a variety of media and publishing tools. Activity sheets can be mapped against learning outcomes and performance criteria and recontextualised by other teachers.
Relative to the implementation of new normal for the incoming School Year 2020-2021, the development of the Learning Activity Sheets (LAS) shall be based on the Most Essential Learning Competencies (MELC) issued by the Central Office. The uniformed template for the Learning Activity Sheets (LAS) is attached below.
Key stage 1 (Grades 1-3) learning areas shall be prepared by their own respective SDOs based on their MTB used as Methods of Teaching (MOT). Preparation of the Key Stage 2 (Grades 4-6), and Key Stage 3 (Junior HS) and Key Stage 4 (Senior HS) shall be based on the agreed distribution per grade levels. Grade level assignments and timelines of submission are attached below.
The LAS shall be utilized by learners during the home learning sessions.
RECOMMENDED