The smart way to learn English. This 'smart English grammar worksheet 2,' first out of six worksheets, will help students to learn English, which will prove to be quite beneficial for them not just for school but in later stages of their life as well.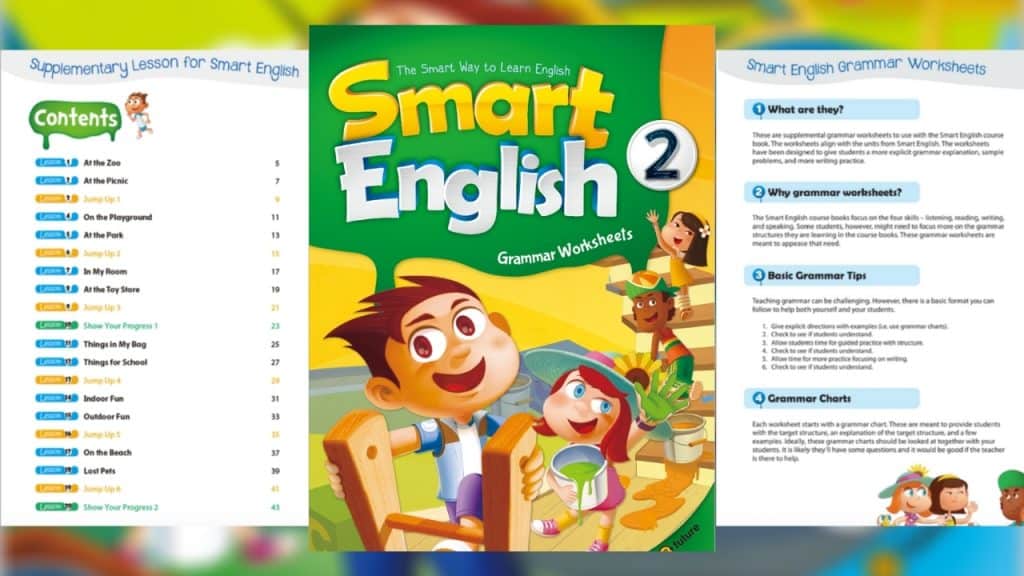 "Grammar explains the forms and structure of words (called morphology) and how they are arranged in sentences (called syntax). In other words, grammar provides the rules for common use of both spoken and written language so we can more easily understand each other," according to Gregg MacMilan, President at TechneGraphics, Inc.
He also wrote that, "grammar is important because it provides information that helps the reader's comprehension. It is the structure that conveys precise meaning from the writer to the audience. Eliminate grammatical errors from your writing, and reward your readers with clear communication."
There is more treasure in books than in all the pirate's loot on Treasure Island.

Walt Disney
Smart English Grammar Worksheet 2
What are they?
These are supplemental grammar worksheets to use with the Smart English course book. The worksheets align with the units from Smart English. The worksheets have been designed to give students a more explicit grammar explanation, sample problems, and more writing practice.
Why grammar worksheets?
The Smart English course books focus on the four skills – listening, reading, writing, and speaking. Some students, however, might need to focus more on the grammar structures they are learning in the course books. These grammar worksheets are meant to appease that need.
Basic grammar tips
Teaching grammar can be challenging. However, there is a basic format you can follow to help both yourself and your students.
1. Give explicit directions with examples (i.e. use grammar charts).
2. Check to see if students understand.
3. Allow students time for guided practice with structure.
4. Check to see if students understand.
5. Allow time for more practice focusing on writing.
6. Check to see if students understand.
Grammar charts
Each worksheet starts with a grammar chart. These are meant to provide students with the target structure, an explanation of the target structure, and a few examples. Ideally, these grammar charts should be looked at together with your students. It is likely they'll have some questions and it would be good if the teacher is there to help.
Smart English Grammar Worksheet 2
Smart English Grammar Worksheet 1
Smart English Grammar Worksheet 3
Smart English Grammar Worksheet 4
Smart English Grammar Worksheet 5
Smart English Grammar Worksheet 6
Download More:
Disclaimer:This post is created for information, education and dissemination purposes only, NO copyright infringement intended, for more questions and inquiries contact us through our Facebook page, @teachertayo.
These worksheets (Smart English Grammar Worksheets 1 to 6) are made by Global ELT e-future. If you would like to download more of these worksheets, you can visit their website, www.efuture-elt.com.
RECOMMENDED