Ever since President Duterte sat down as the president, we have seen a visible increase to teacher's salary. It had been increasing, and surely we, as teachers, are ecstatic and grateful.
You can scroll down below for the list or you can read what I have to say first, though it might bore you, your choice.
That feeling of having your salary increased, and most likely will increase again, just makes you think, "buti nalang teacher ako" kind of feeling.
But I know some of you are thinking, "ay aba! dapat lang." I can't argue with that. Teaching, if not the hardest, is one of the most difficult job.
RELATED ARTICLES:
The youth, or younger generation, is the future of our country. They will be the ones to lead our nation in the future. And we are the ones to guide them to that ultimate goal.
So I believe it is just right that teachers should have a high salary, doesn't have to be the highest but at the least, more than enough to keep teachers from worrying about money and instead focus their time and energy to teaching.
I know you clicked on this post because you are curious to find out the top 10 countries that is paying their teachers the most. But if we are going to analyze it. If we are going to reverse engineer it, we will find out that these countries are actually well-developed countries.
And no, they don't pay their teachers with a lot of money because they are well developed, but because that they pay their teachers a lot that they are well developed countries.
Want to download free teacher's materials? CLICK HERE
Read more interesting articles like this? CLICK HERE
Maybe it is just me and my thoughts but I hope that in the future, in our country, teaching will be one the highest paying professions out there. Sorry for the wait, but here you go.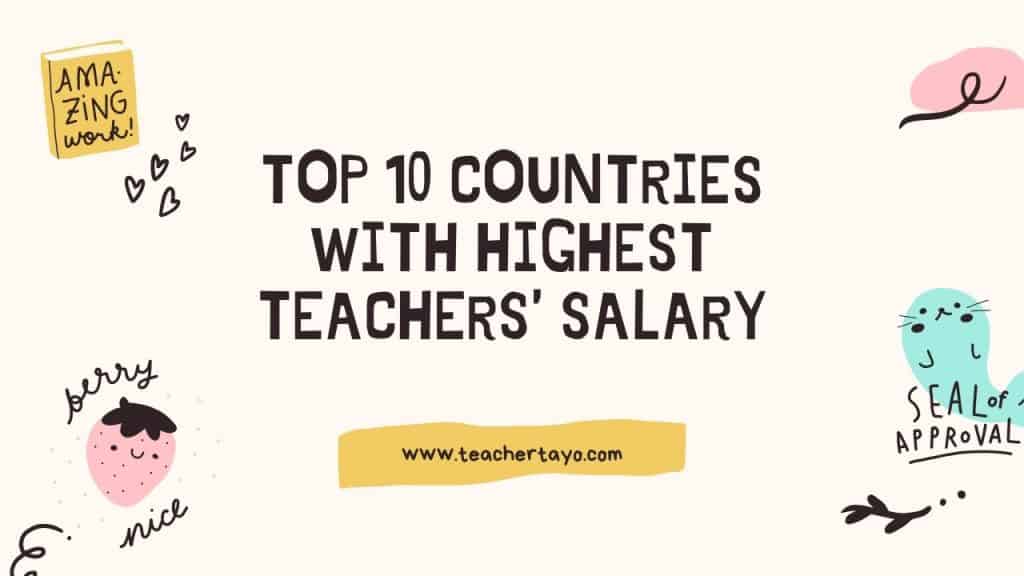 Top 10 countries with highest teachers' salary
Switzerland – $110,000 or ₱5,346,000
Luxembourg – $100,000 or ₱4,860,000
Canada – $74,000 or ₱3,596,400
Germany – $70,000 or ₱3,402,000
Netherlands – $67,000 or ₱3,256,200
Australia – $67,000 or ₱3,256,200
United States – $60,000 or ₱2,916,000
Ireland – $53,000 or ₱2,575,800
Denmark – $52,500 or ₱2,551,500
Austria – $50,000 or ₱2,430,000
Note: This article is written on the 5th of April, 2021. The US dollar to Philippine Peso exchange rate as of this time is $1 is equivalent to ₱48.60.
RELATED ARTICLES:
These are the average salary of teachers in each country, which means it could be higher or lower. There are factors affecting with one's salary such as years of experience, location, private schools or government funded, education, additional qualifications etc. Generally high/secondary school teachers earn a higher income than elementary school teachers.
Though we can say that the rate of living in these countries are higher than in the Philippines, but even still, these are quite high salaries, and it makes me jealous.
What about you? what do you think of these countries and the teacher's salary? Make sure to tell us on the comment section down below. Or you can join our Facebook group.
Want to download free teacher's materials? CLICK HERE
Read more interesting articles like this? CLICK HERE
RECOMMENDED