In this post, you can download free school forms which are adjusted for this school year made by the Department of Education (DepEd).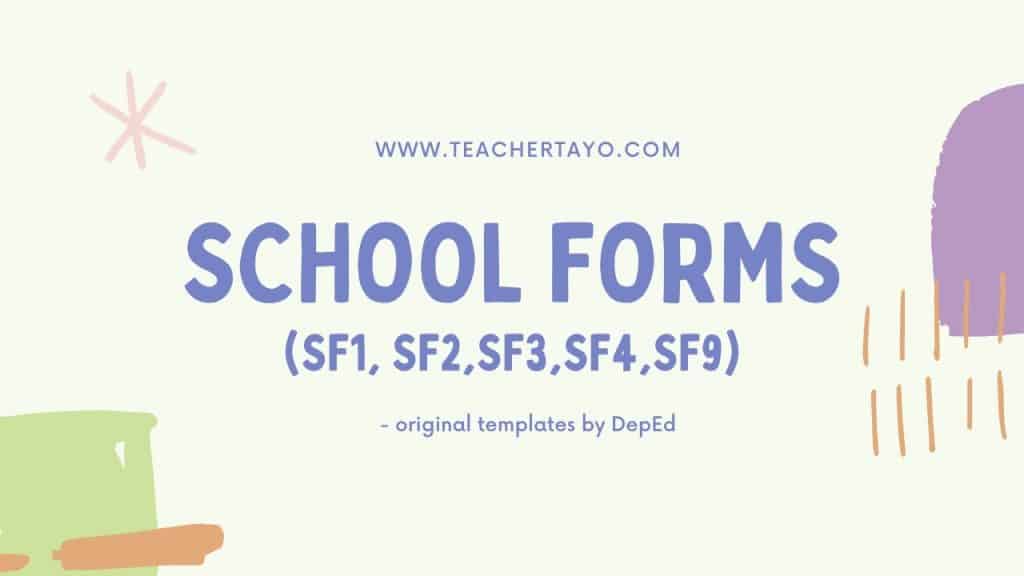 The Department of Education (DepEd) issued DepEd Memorandum No. 014, s. 2021 titled "Interim Guidelines on the Preparation, Submission, and Checking of School Forms for the School Year 2O2O-2O21," consistent with the Basic Education-Learning Continuity Plan (BE-LCP) as stipulated in DepEd Order (DO) No. 012, s. 2O2O.
This issuance amends certain provisions of DO Nos. 04, s. 2014 and 58, s. 2017 to reflect the requirements of distance learning modalities in school forms, as well as to ensure the collection of necessary data for evidence-based decision-making for School Year (SY) 2O2O-2O21.
Related: Interim Guidelines on the Preparation, Submission, and Checking of School Forms for the School Year 2020-2021
In this regard, certain adjustments were made for the submission and checking of the following school forms:
School Form 1 (SF 1) School Registry
School Form 2 (SF 2) Daily Attendance
School Form 3 (SF 3) Books Issued and Return
School Form 4 (SF 4) Monthly Report of Learner Movement and Attendance
School Form 8 (SF 8) Basic Health and Nutrition Profile
School Form 9 (SF 9) Progress Report
School Form 10 (SF 10) Permanent Record
School Forms (S.Y. 2020-2021)
MORE SCHOOL FORMS: DOWNLOAD HERE
LEARNING & TEACHING MATERIALS: DOWNLOAD HERE
INTERESTING ARTICLES: READ HERE
Preview:
DepEd will issue further instructions in accomplishing School Form 5 (SFS) Report on Promotion and level of Proficiency, and School Form 6 (SF6) Summarized Report on Promotion and Level of Proficiency at the end of the school year.
In the memoranda, DepEd reminds teachers that the adjustments made, which will be posted in and can be accessed through the Learner Information System (LIS), shall be incorporated in the school forms for SY 2O2O-2O21 in all public and private schools as well as state and local colleges and universities offering basic education. The regional/ schools division offices and even schools are highly discouraged to introduce localized forms that only duplicate data in these nationally issued forms.
(Enclosed to DepEd Memorandum No. 014, s. 2021)
Source/ Reference: Department of Education (DepEd)
RECOMMENDED